Overview
---
Nuvolo's Warehouse Management Setup package provides a best-practice approach to the out-of-the-box setup of Nuvolo. The fixed-scope engagement follows a pre-defined setup strategy to streamline the configuration process and focuses on a rapid time-to-value deployment.
Pre-Requisites
ServiceNow instance
Implemented Connected Workplace Maintenance
Implementation
---
Kickoff
The purpose of a kickoff meeting is for the teams to meet and review the implementation process. On or around the time of the kickoff meeting.
Nuvolo will:
Provide data templates to Customer for data collection and load.
Provide a list of appropriate self-paced learning content.
Review project plan with task dates and dependencies.
Review standard product configuration included in this Service Description.
Customer will provide:
Appropriate and knowledgeable staff to complete self-paced learning prior to kick-off and participate in the implementation.
One or more Nuvolo application administrator for each Nuvolo application as appropriate.
Customers network access process.
Customer deliverables as identified for the implementation as scheduled.
Sub production instance URLs.
Admin access to the ServiceNow sub-production instance(s) first week of implementation for Nuvolo implementation team.
Access Enablement
Access to Nuvolo applications and modules is controlled by defined roles included with each base application. Roles are assigned to groups and members of a group inherit the roles assigned to the group. Note that access to individual records and fields may be controlled by defined roles or informal roles based on the specific fields in the record.
Nuvolo will:
Review the Customer's process in which it will create groups and assign group members to the production instance.
Provide standard roles for access to the application(s).
Data collection and load
Data collection and load involves two (2) types of data as follows:
​Referential data: for example, Stockrooms, Ails, Racks, Shelfs, Bins, Parts, Part types, Bin Inventory.
Metadata: for example, work order types, resolution codes, work order sub states etc.
Based on the number of records in the source data, the data may be migrated from either spreadsheet templates (< 20,000 records) or from a SQL database (any number of records).  For each data set to be imported, Nuvolo and the Customer have the following responsibilities:
Nuvolo will review and explain the usage of the data within the Nuvolo application.
Nuvolo will provide the Standard Spreadsheet Data Templates to collect Customer data.
Customer will collect data from legacy system(s), if applicable, or create the data manually based on business needs.
Customer will analyze data collected for quality and ease of loading and provide any data cleansing or data sorting required.
Customer will consolidate the data (combine data into a single, central repository), if applicable.
Customer will normalize (eliminate redundancies in) the data.
Customer will refine (correct anomalies in) the data.
Customer will map the tables and fields from the single, central repository into Nuvolo Standard Spreadsheet Data Templates with guidance from Nuvolo.
Nuvolo will import data using the completed Standard Spreadsheet Data Template with the standard transform maps and process.
Nuvolo will perform up to 3 diagnostic cycles to map the source data (up to 1000 records per table) to the Nuvolo target tables in the development instance.
Load (using template(s) as defined in Data Collection and Load section) Stockroom Hierarchy records e.g. Stockrooms, Aisles, Racks, Shelves, Bins.
Warehouse Management Activities and Task
Nuvolo will:
Schedule a session to review the Warehouse Stockroom Hierarchy with the Customer.
Review the Warehouse Management functionality included with the base Nuvolo software with the Customer.
Configure or add, up to ten (10) fields total for the Warehouse Management application.
Configure the related forms and list layouts as required by the customer.
Demonstrate the Physical Count Scheduling functionality by using an OOTB recurrence frequencies to create one (1) Generation Cycle (i.e. Physical Count Definition) for one (1) stockroom
Review the standard warehouse work order types and states.
Demonstrate Nuvolo OOTB Auto Assignment Rules functionality to create one (1) Assignment Rule.
Review work order State Transition Configuration (STC) and State Definition (SD) functionality included with the base Nuvolo software.
Setup the work order STC and SD – The STC is a Nuvolo specific design that will control the state flow within the warehouse application.

Review device STC and SD functionality included with the base Nuvolo software.
Using the work order STC and SD functionality, configure the state definitions, state transitions and field visibility associated with each state for warehouse work order as agreed. Customization to the STC and SD functionality is not provided in this estimate.
Configuration of warehouse work order sub-states automations can be addressed via a Change Order.
Mobile Application for Technicians
The Nuvolo mobile application provides only specific technician capabilities. Any other application access will be available only in desktop version.
Nuvolo will:
Enable mobile application.
Customer will:
Install and configure the Nuvolo Mobile Application for each technician as needed from the Google Play Store and Apple App Store.
User Acceptance Testing (UAT)
Nuvolo will:  
Provide Customer with access to configuration documentation in Nuvolo's SDLC instance.
Create functional test cases, required for testing user stories.
Package update sets and appropriate XML data and make available to the Customer for each Development Sprint.
Conduct daily check-ins with Customer to review UAT progress and document reported issues.
Review, prioritize, approve, and assign issues one of the following types:

Defect: There is a flaw with the configuration, which Nuvolo will correct.
Training: The issue is due to a tester misunderstanding of functionality and will be corrected via training/education.
Enhancement: The issue submitted is not functionality that was agreed upon and was therefore never configured and is out of scope.

Make every effort to remediate UAT defects within the UAT period and provide for enough time for the Customer to adequately re-test prior to go-live.
Customer will:
Migrate the update sets and appropriate XML data (i.e., configurations) made in Sub Production instance(s) to the Production instance.
Perform UAT once configuration and unit testing has been completed.
Create data or records in UAT environment as need to facilitate UAT.
Manage Customer's UAT resources and day-to-day operations.
Create end-to-end process testing plan.
Test/re-test remediated defects within 36 hours of notification.
Report issues and provide a description, steps to reproduce and/or video recording, and expected results for each issue discovered during the UAT daily check-in.
Build UAT use cases and lead internal resources through UAT.
Review defect list for accuracy.
Training
Nuvolo will:
Provide training sessions remotely via video conference facilities.
Review training scope and the final content to be included in training based on the Deploy stage configurations.
Create training PPT presentation and materials that reflect the client implementation. This material will provide the user with instruction on how to use their Nuvolo implementation to perform the functions of their job. This may include, for example, how to create work orders, Stockroom hierarchy, onboard and search for parts, schedule cycle counts and other tasks.
Develop two (2) role-based user train-the-trainer model training curricula as follows:

Nuvolo application administrator curriculum covering general administration, stockroom hierarchy, schedules and dashboards.
Technician/user curriculum covering how to use their Nuvolo implementation to perform technician/user functions such as how to manage work orders, search for specific parts and bins, and other tasks appropriate to the implementation.

Perform training sessions for up to twelve (12) participants each.

One Nuvolo application administrator session with up to five (5) hours of customer facing training.
One Technician session consisting of up to five (5) hours of customer facing training
Production Go-Live and Post Go-Live Activities and Tasks
Nuvolo will:
Coordinate schedule for production go-live date and time.
Provide go-live support to include documented deployment plan, side-by-side support as Customer migrates update sets and data into production with regular and mutually agreed upon check-in meetings during migration and regression testing.
Provide post go-live support (Hypercare) for one week to include daily check-in meetings, defect reports, and knowledge transfer to Customer Success team.
Coordinate a transition to Nuvolo's Customer Success team.
Customer will:
Author Customer specific operational policies or work instructions.
Send the communication plan(s) as developed and scheduled.
Migrate update sets and data into production.
Change Requests
---
If there is a change in scope, assumptions, capability discovered during the implementation kickoff then Nuvolo will require a Change Request. Any Change Request signed by both parties shall be effective as of the date set forth therein (each, a "Change Order").  Instances in which a Change Order shall be required include: (1) Customer's requests for out-of-scope Services; (2) discovery of new information that requires an increase in the scope of Services; or (3) Customer's failure to fulfill any of its responsibilities if such failure delays the Services or requires Nuvolo to incur additional time or costs in performing Services.
If the parties do not agree on a Change Order, the Engagement shall proceed as originally set forth. If, however, the existing Engagement or any specific Services cannot proceed without an executed Change Order, Nuvolo may suspend Services until the Change Order is executed.
Scheduled Timeline
---
The duration for the setup of the services outlined in this document is up to twelve (12) weeks.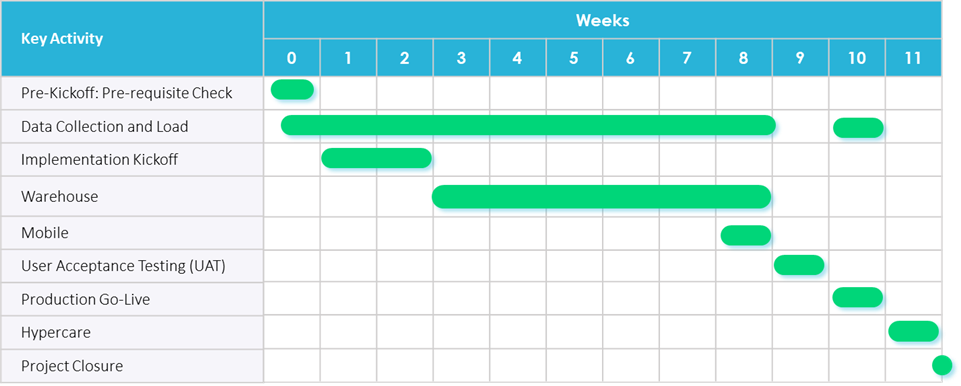 Delivery Terms
---
The duration of this deployment is up to twelve (12) weeks. Any additional effort required related to complexity, scope or project duration will be subject to the change request process.
If this service is purchased with another Nuvolo service, the activities in this service may be integrated with and/or added to the activities and timeline of the primary service.
Any activities or tasks not specifically outlined in this Service Description are out of scope.